Cocorex® Cough Syrup Dosage
Cocorex (alone or in combination with other medications) comes as a tablet, a capsule, and a solution (liquid) to take by mouth. It is usually taken every 4 to 6 hours as needed. Follow the directions on your prescription label carefully, and ask your doctor or pharmacist to explain any part you do not understand. Take Cocorex exactly as directed.

Cocorex can be habit-forming. Do not take a larger dose, take it more often, or take it for a longer period of time than prescribed by your doctor.

Shake the solution well before each use to mix the medication evenly. Do not use a household spoon to measure your dose. Use the measuring cup or spoon that came with the medication or use a spoon that is made especially for measuring medication.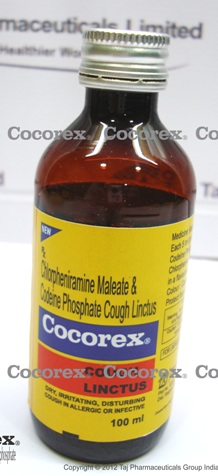 Cocorex Cough Syrup is usually given 4 times a day in the following doses:
Adults: 1 teaspoonful (5 ml)
Children: 6–12 years: 1/2 teaspoonful (2.5 ml)
2–6 years: 1/4 teaspoonful (1.25 ml)
Adults and children over 12 years:
1 teaspoonful (5ml) 3 to 4 times daily.
Children 6 to 12 years
1/2 teaspoonful (2.5ml) 3 to 4 times daily.
Children 2 to 6 years
1/4 teaspoonful (1.25ml) 3 to 4 times daily.
Children below 2 years
On advice of a physician
Note : This product information is intended only for residents of the India. Taj Pharmaceuticals Limited,  medicines help to treat and prevent a range of conditions—from the most common to the most challenging—for people around the world. The Price of the drugs indicated above may not match the actual price at which they are sold. Prices can change depending on many factors, including local taxes. These are only approximate indicative prices of the drug. The products discussed herein may have different product labelling in different countries. The product information provided in this site is intended only for the residents of India.
Information for Health Care Professionals
*** Please consult local Prescribing Information for any product before use. This website is an international information resource for healthcare professionals with an interest in disease management. This website is not intended to replace the advice of a qualified healthcare professional. Above brand is a trademark of the Taj group of companies (Taj Pharmaceuticals Limited).
Cocorex description, Cocorex actions, Cocorex indications, codeine phosphate cough syrup warnings, codeine phosphate cough syrup description, codeine phosphate cough syrup actions, codeine phosphate cough syrup Indications, cocorex cough syrup add, cocorex cough syrup commercial, cocorex cough syrup during pregnancy, cocorex cough syrup price, cocorex cough syrup addiction, cocorex drug, codeine phosphate cough syrup warnings, alcohol syrups india, chlorpheniramine maleate actions, chlorpheniramine maleate indications, chlorpheniramine maleate description, chlorpheniramine maleate syrup, excess dose, codeine overdose, codeine syrup overdose, during pregnancy, Cocorex brand cough syrup addiction, pharmaceuticals, cocorex brand easily available manufacturer, price india | Taj Pharma India, addicted, cocorex cough syrup manufacturers & cocorex cough syrup suppliers directory, cocorex cough syrup add, cocorex cough syrup commercial, cocorex cough syrup price, cocorex cough syrup addiction, cocorex drug