Cocorex® Cough Syrup Product Description
Cocorex is used to relieve mild to moderate pain. It is also used, usually in combination with other medications, to reduce coughing. Combination products that contain Cocorex and promethazine should not be used in children younger than 16 years of age. Cocorex will help relieve symptoms but will not treat the cause of symptoms or speed recovery. Cocorex belongs to a class of medications called opiate (narcotic) analgesics and to a class of medications called antitussives. When Cocorex is used to treat pain, it works by changing the way the body senses pain. When Cocorex is used to reduce coughing, it works by decreasing the activity in the part of the brain that causes coughing.
Cocorex Cough Syrup is formulated for the relief of irritating and troublesome cough. It has antitussive, antihistaminic and nasal decongestant actions.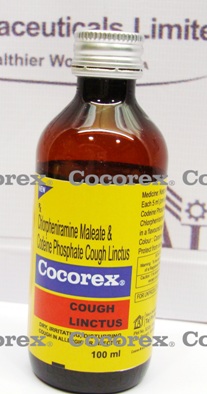 COMPOSITION
Each 5ml (teaspoonful) of Cocorex Cough Syrup contains:
Alcohol IP                                                   8 mg
Chlorpheniramine Maleate IP                4 mg
Codeine Phosphate IP                           10 mg
Carmoisine and Sunset Yellow FCF as colorants
Note : This product information is intended only for residents of the India. Taj Pharmaceuticals Limited,  medicines help to treat and prevent a range of conditions—from the most common to the most challenging—for people around the world. The Price of the drugs indicated above may not match the actual price at which they are sold. Prices can change depending on many factors, including local taxes. These are only approximate indicative prices of the drug. The products discussed herein may have different product labelling in different countries. The product information provided in this site is intended only for the residents of India.
Information for Health Care Professionals
*** Please consult local Prescribing Information for any product before use. This website is an international information resource for healthcare professionals with an interest in disease management. This website is not intended to replace the advice of a qualified healthcare professional. Above brand is a trademark of the Taj group of companies (Taj Pharmaceuticals Limited).
Cocorex description, Cocorex actions, Cocorex indications, codeine phosphate cough syrup warnings, codeine phosphate cough syrup description, codeine phosphate cough syrup actions, codeine phosphate cough syrup Indications, cocorex cough syrup add, cocorex cough syrup commercial, cocorex cough syrup during pregnancy, cocorex cough syrup price, cocorex cough syrup addiction, cocorex drug, codeine phosphate cough syrup warnings, alcohol syrups india, chlorpheniramine maleate actions, chlorpheniramine maleate indications, chlorpheniramine maleate description, chlorpheniramine maleate syrup, excess dose, codeine overdose, codeine syrup overdose, during pregnancy, Cocorex brand cough syrup addiction, pharmaceuticals, cocorex brand easily available manufacturer, price india | Taj Pharma India, addicted, cocorex cough syrup manufacturers & cocorex cough syrup suppliers directory, cocorex cough syrup add, cocorex cough syrup commercial, cocorex cough syrup price, cocorex cough syrup addiction, cocorex drug